One of the questions I get from people grasping at the concept of Otheresteem is where to start.  (No need to begin work on your worst enemy just yet). I say, start with someone you would like to value more and have not found a way to do so yet.  Someone that is a challenge to you, but that you would love to understand more.  Because, you know you want to…you've just given up! The four practices can be a structured and fascinating way to go about it.  If we see otheresteem as the feeling that you have about that difference between what they actually are and what you would like them to be, you will get a better understanding of what has been getting in the way.  Say it's your relationship to Sally that you want to work on.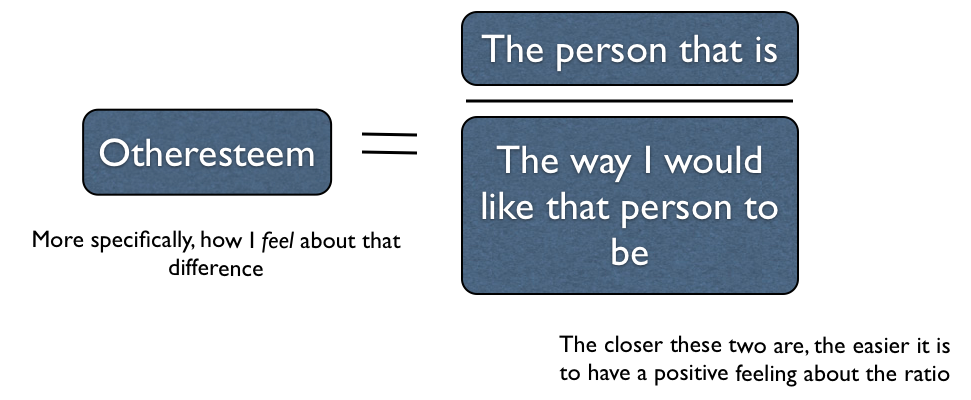 The more similar Sally is to the way you would like her to be, the closer to 1 the division will be and the easier it gets for your otheresteem to be a good feeling.
If that feeling is awful, on the other hand,  you might be trying to cope by lowering your standards about Sally.  You EXPECT her to be mean or unresponsive or just not what you normally prefer in people.  That way you aren't dissappointed.  You also never get even close to what you want because you have already cast her as WWW (Wicked Witch of the West). You may be ignoring Sally or acting like it doesn't matter to avoid seeing the SALLY THAT IS in all its splendor.
Which is where the four practices come in! In acceptance, you allow yourself to see the "Sally that is".  In Appreciation you find the parts of her that you can already like.  In Expectation you open the door for her to become more positive.  In gratitude, you like yourself and Sally better, cultivating a different feeling about her.  Go ahead, try it out! You might discover something about yourself and how you have been coping with low otheresteem! (You know you want to!)