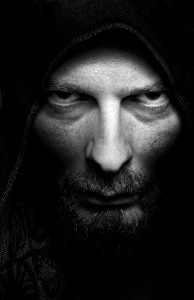 We all write a story for ourselves. We put in the characters we meet along the way and we assign them a role to play. The more we treat them like we've written them, the more they seem to play their role. Sometimes they behave as expected, sometimes we need to stretch the storyline a bit. But once they are written in, it's up to the original author to change who they are.  I know you, as I, have changed your mind about people. But, truthfully, not very often.
As you are the main character in the story of your life, you feel the need for antagonists. You want to know you are conquering truth and virtue and all that's good. So sometimes, you feel you have to go up against someone. And you do. You write in the villians and expect them to behave accordingly. They are wrong, mean, bad, stupid, selfish, dorky, unreliable or all of the above. They make YOU look, by comparison, right, kind, good, smart, selfless, polished and reliable. Isn't that nice?
Well, sometimes. The thing is, this a LONG story. And having someone be the villain all the time is not only boring, but suddenly not helpful to make you look good and, of course, FEEL good. Deep down you know you aren't all of those things because of them, but actually, in spite of them or regardless of them. As you become aware of your contribution to the writing of the story, you understand that they can be exactly as you depict them, or someone else entirely.
So consider doing like a long-running soap opera. The characters shift around. Bad guys get knocked on the head and forget to be bad. Cynics fall in love and show good will. Choose a few characters you would like to befriend and rewrite their story. Give them space to move into a different way of being, to redeem themselves. Make that angry, abusive person the one who could use some appreciation. Make that bully the one who feels left out. Switch it around a bit.  Rewrite in a way that allows you to value them more.
I actually took to pen and paper to rewrite a few of my "character" descriptions. Changing theirs changed the relationship of my character to them. It made me act in different ways and expect a wider range of reactions. Try it out! Let's see what this rethinking can do for you and how you value the people around you. You might discover some unexpected attributes in people you thought you knew. Positive ones that make YOU look and feel pretty good.  You could even write in a happier you! Expectation is a powerful ally for building otheresteem.
Related articles