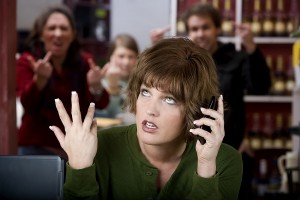 Do you have an ongoing relationship in your life that just drives you up the wall?
It's funny how we relate in a challenging and energy-sucking way with so many people. I know you have experienced this. After all, who hasn't? I am talking about that person you feel you can't cut out of your life, yet you suffer immensely in their presence. Every single time. It's a test to your patience just to hang around this individual.  The worst you that you can be is just fighting to come out. You tell yourself she won't get to you, but a few minutes into the conversation every cell in your body is vibrating, and not in a good way!
Well, let me just say: this is probably a GREAT opportunity for you to practice otheresteem. Nothing much to be lost and you can't possibly feel much worse, so why not, I say.
So, I want to share with you a little game I play. It's called looking through. Simple concept, actually. As I have a conversation with this person (and feel the exasperation coming on), I focus on looking through what he is saying, and into the good part of who that person is, what she is experiencing or aiming for, at the core. (Hint: it's the POSITIVE part of them I am looking for and, yes, it's hidden somewhere.)
Yesterday I was listening to an acquaintance go on and on bragging about how well he handled people being aggressive with him. He boasted that people tended to do that and went on to enlist his long list and ongoing collection of quarrels with people, known to me or not. Ugh! Not my favorite take on life. I found myself thinking: this is so stupid? Who in the world brags about fighting with others, antagonizing, being punched in the face and such? And then, I decided to play the look through.
As I continued to listen I looked intently. My head tilts a bit to the side when I do that. I realized he was saying how competent he was and how he usually came on top. He's a survivor. He has turned this difficulty in relating into his way of life. It's a hard life. And he feels strong for it. I breathed. I said, "You take pride in being strong. Surviving and winning." He stopped the rambling description he was into. Sighed a bit and said "I've become quite good at that. The surviving mode." and, finally, he laughed and went on to more amicable subject. What a rush! I understood him a bit more.
Wanna play? Try it out and tell me where it takes you.
….
P.S. Today is #Otheresteem Wednesday on Twitter, so if you are there, hop right in to the STREAM OF OTHERESTEEM!
Related articles